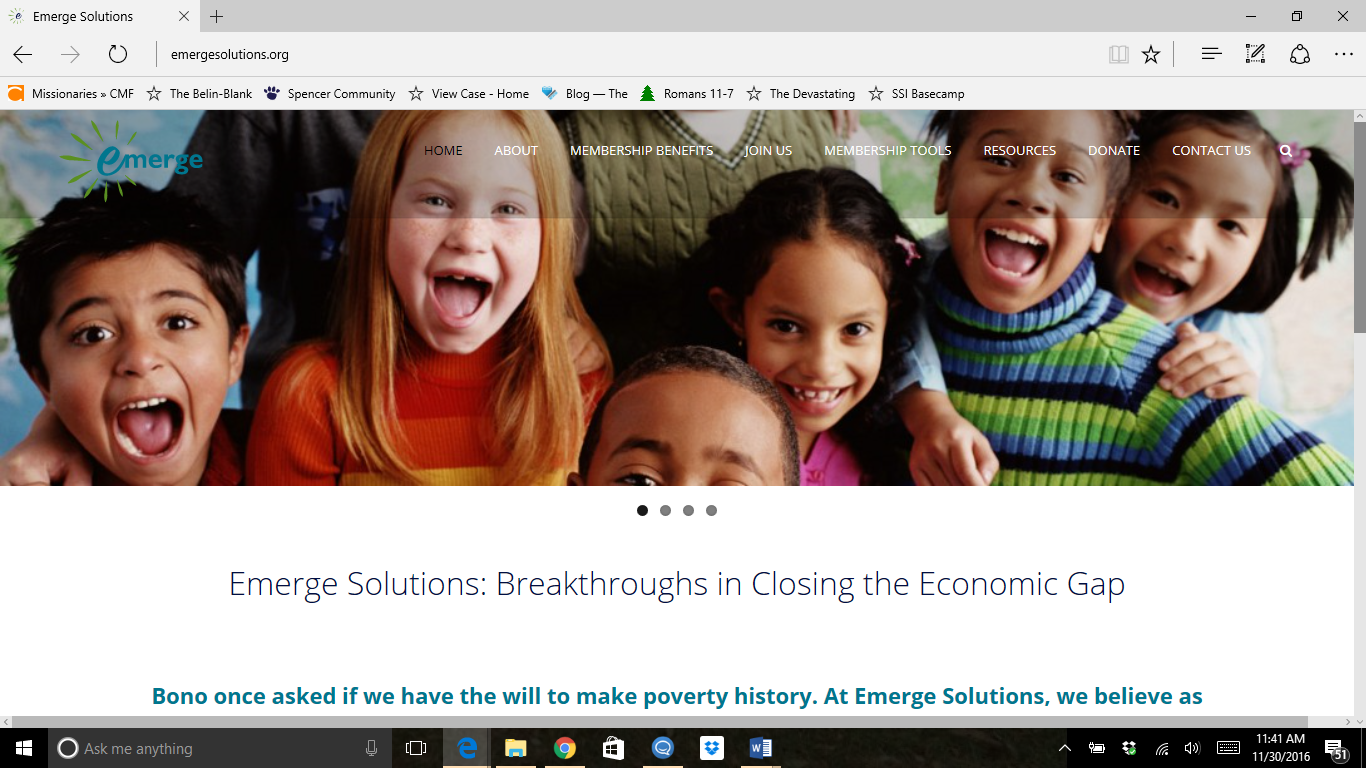 A note from Simon Solutions...We invited Barbara Duncanson of Emerge Solutions, to share with our CharityTracker and Oasis Insight networks information about this developing online learning community. Emerge Solutions and its members can be especially helpful to any of our networks utilizing the Bridges Out of Poverty and Getting Ahead solutions for their community. Barbara explains more in this blog and then check out the web site! Simon Solutions is already a proud member! To learn more about CharityTracker and our Getting Ahead module, check out this free webinar: Helping People Create a Plan for Stability - Krista Petty, Simon Solutions Community Connector

Meet EMERGE SOLUTIONS! By Barbara Duncanson

If you're already a CharityTracker or Oasis Insight client (or considering becoming one), you are naturally collaborative, understanding the advantages of working together across organizations and communities to more effectively serve people in need. And you're eager to adopt the latest ideas and technologies that can help you stretch limited resources and effect real change in individual lives and in your community.

Now, there's a growing organization that can complement your resources from CharityTracker, further expanding your knowledge network and your access to best practices, data and latest tools.

Emerge Solutions is a nonprofit virtual organization through which members across the country are sharing their challenges and successes in ending poverty in their communities. Its mission is to promote lasting solutions to close the economic gap and build community sustainability at the local, regional, and national levels.

It was founded especially for nonprofits, businesses, governmental agencies, educators, religious organizations, healthcare organizations and others that view the current economic disparity in our nation with alarm, and understand that by addressing this disparity, we both strengthen the social fabric and become more effective allies to under-resourced individuals moving toward self-sustainability.

Emerge Solutions aims to be a positive force for reducing this economic disparity by supporting initiatives to advance economic equality through collaboration, education, advocacy and proven solutions.

Emerge Solutions began when several representatives of communities using Bridges Out of Poverty constructs from the publishing and training company aha! Process discovered a common dilemma. While the constructs had the power to facilitate understanding about the nature and causes of poverty in diverse audiences across the country – creating true "aha!" moments --, the questions of "what do we do now" and "how do we implement what we've learned" were not easily answered.

These representatives founded the organization in 2012 under the name Advancing Bridges. It was renamed Emerge Solutions in 2015. The new name and tagline, "Breakthroughs in Closing the Economic Gap," better reflect the organization's mission, emphasis on collaboration and expanded focus on seeking out and promoting proven solutions to transform communities from a broader range of sources.

Today, Emerge Solutions is a member-driven, nationwide organization for those dedicated to closing the economic gap. Membership is expanding beyond communities using Bridges Out of Poverty to those, like the Society of St. Vincent de Paul, that are approaching the elimination of poverty through a variety of lenses and strategies.

Two recent developments underscore Emerge Solutions' emphasis on becoming the premier resource for individuals and organizations working to end poverty:
•Emerge Solutions was named a service provider in a $750,000 grant to the Lucas County, Ohio, Bridges Out of Poverty organization. Emerge Solutions will provide a platform to share challenges and best practices to the grant coalition.
•Emerge Solutions began reaching out and forging relationships with other individuals and organizations whose products, services, information, ideas or other resources may benefit our members, including CharityTracker.

"I'm consistently amazed at how the resources and relationships I've gained through Emerge Solutions have enriched my day-to-day work to prevent and alleviate poverty in Ohio," said Stephen MacDonald, chair of Emerge Solutions' board of directors and coordinator for Lucas County's Bridges Out of Poverty initiative. "And the more our membership grows, the more we will be able to give back to members as well as influence issues impacting poverty on local, regional and national levels."

Emerge Solutions invites you to join its commitment to close the economic gap. It's easy and cost-effective to become a member. For an annual membership fee of just $35 ($100 for an organizational membership including three individual memberships), members enjoy benefits such as:

•Networking through Emerge Solutions' Community of Practice
•Blogging opportunities
•Access to a directory of members
•Links to web-based resources
•A quarterly newsletter
•Opportunities to join virtual committees working in marketing and membership, best practices, advocacy, finance and fundraising

You can learn more by visiting the organization's website at www.emergesolutions.org.