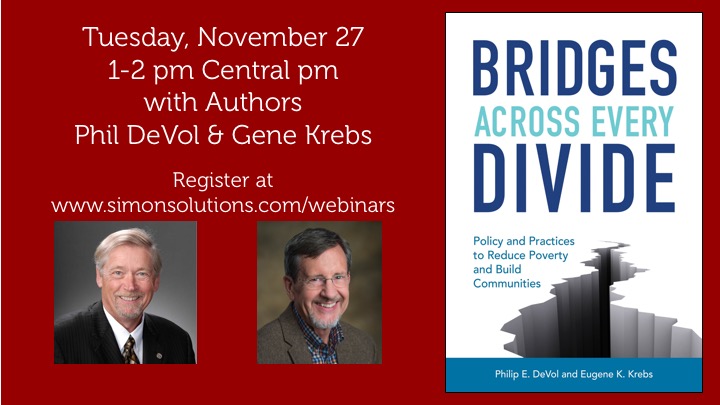 Visit
simonsolutions.com
to learn more and register.
It's time to take our Bridges Out of Poverty and Getting Ahead knowledge and practices to the next level. In our November Webinar, Phil DeVol and Gene Krebs will discuss their new book, Bridges Across Every Divide- Policy and Practices to Reduce Poverty and Build Communities. This new book offers up both a common language and an accurate understanding of poverty, and the process for policy solutions in a harsh political environment. They will also give insights on why politics is so divisive.
Philip DeVol, author of Getting Ahead in a Just-Gettin-By' World and Bridges to Sustainable Communities, has been addressing poverty issues since 1997. Programs derived from his published works are in use in the U.S. and around the world. Eugene Krebs served eight years in the Ohio House of Representatives. Since leaving public office, he has focused on practical, nonpartisan solutions to major issues confronting our nation.
Can't make the live presentation? Register anyway and receive a link to the recording and handouts! Visit
simonsolutions.com
to learn more and register.