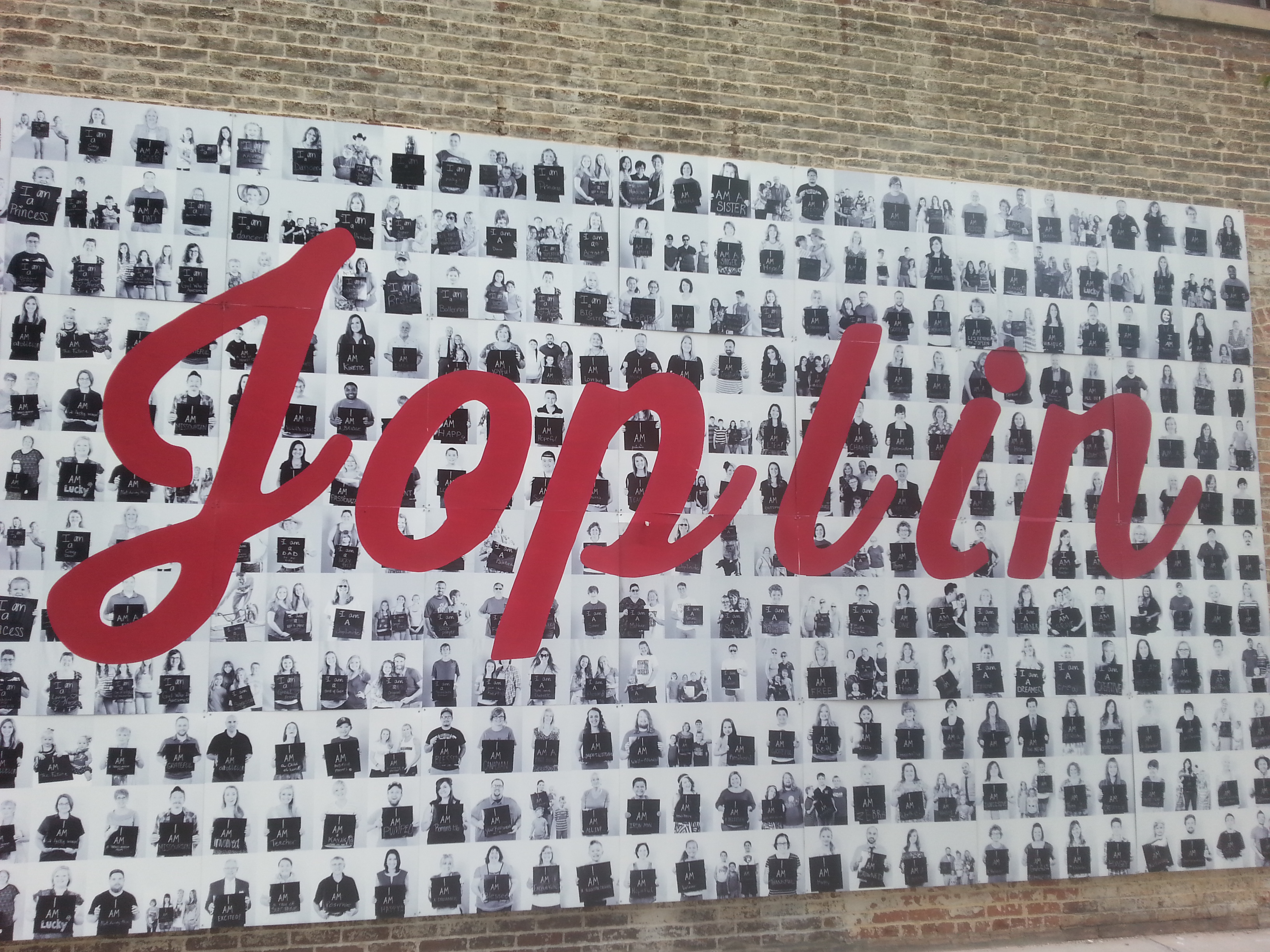 (pictured: This mural in downtown Joplin is made from photos of many proud residents with the overall message, "We Are Joplin.")
On the afternoon of Sunday, May 22nd, 2011 Joplin, Missouri was leveled by a devastating EF5 tornado that took the lives of many and changed the city forever.
Joplin is home to one of the oldest and most established CharityTracker networks in the country and at the time of the storm, CharityTracker was already being used in Joplin.
We are proud that our solution has been one of the tools implemented to assist the residents of Joplin in the aftermath of the storm and during the lengthy recovery period that has followed.
Joplin has rebuilt itself stronger than before and is a powerful example of how an entire community can collaborate to improve and heal itself from within.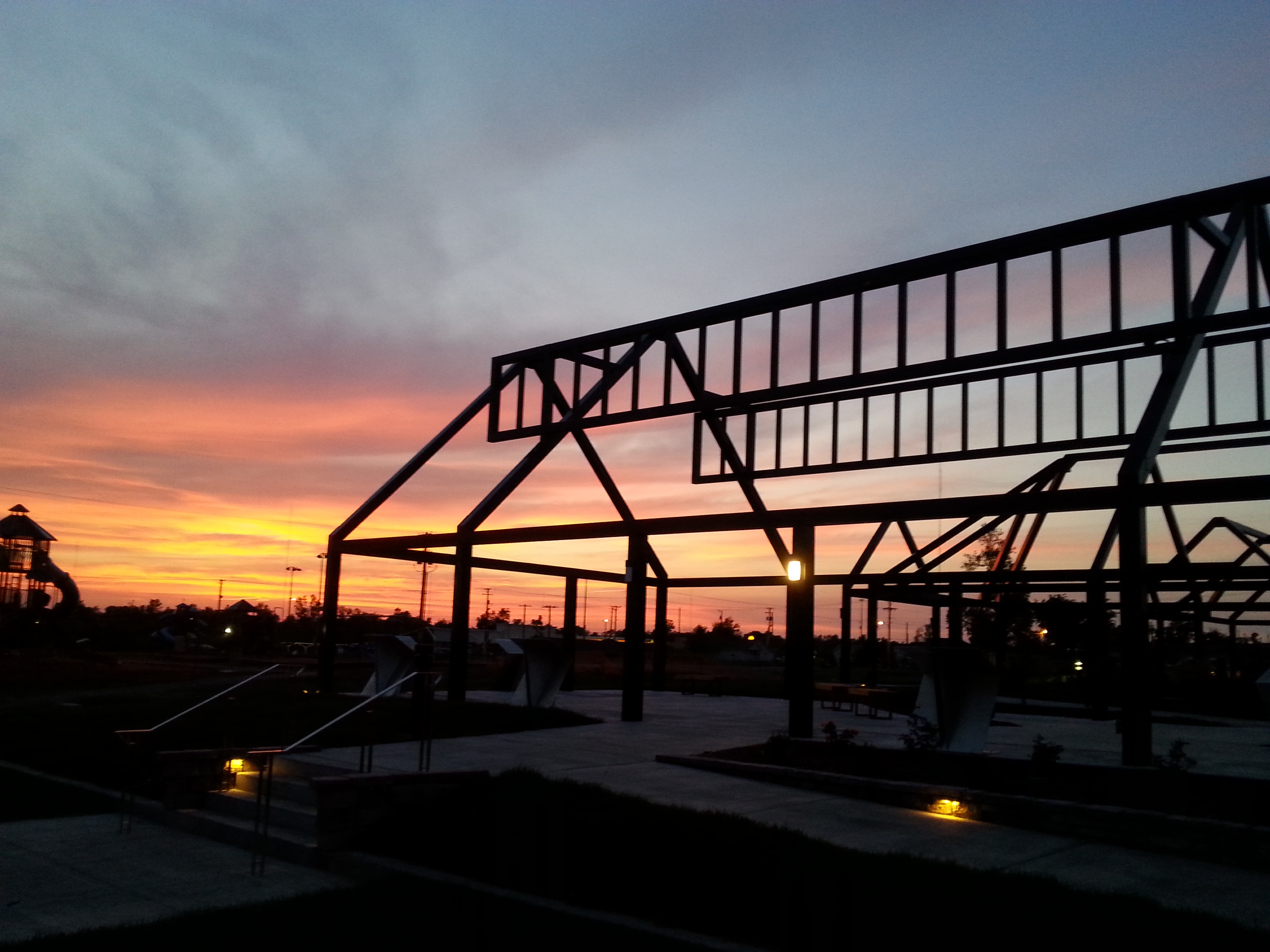 (pictured: This newly dedicated monument in Cunningham Park represents homes that were lost in the 2011 Joplin tornado. )
During the third week of May, Isaac Simon and Derek Dailey had the opportunity to visit Joplin on behalf of the Simon Solutions Team.
While in Joplin, they were able to speak with many CharityTracker users about their experiences and to collect feedback which will enable our team to continue to improve our solutions.
On the 3rd anniversary of the storm, our representatives were able to attend the dedication and ribbon-cutting ceremony for the beautiful new memorial overlook and butterfly garden at Cunningham Park. The park also features several other moving memorials, including a plaque with the names of those lost, a tribute to the volunteers, a children's memorial reflection pond, a memorial fountain, and 161 trees have been planted on the property to honor those who perished.
KY3 News was there to cover the dedication ceremony. Here's a link to their story.
Simon Solutions would like to extend a special Thank You to the following people, and the organizations they represent, for their time, courtesy, input, and caring spirits.
They are indeed, JOPLIN STRONG.
April O'neil, Holly Hoyeer, Greg Spink, and Larry Hazelett
Watered Gardens Gospel Mission
Kathy Lewis
Crosslines Churches of the Joplin Area, Inc.
Dave Wood
College Heights Christian Church
James Whitford
Watered Gardens Gospel Mission, Joplin True Charity Initiative
Brad Campbell and Andrea Minor
Catholic Charities of Southern Missouri
Misty Frost and Lisa Bushnell
Mission Joplin
Terri Giarratano
St. Peter's Outreach House, St. Peter the Apostle Catholic Church
Pastor Dave Burgess
First Presbyterian Church Joplin
Georgia Jones
Souls Harbor
Caroline Jones and Debra Gaskill
Salvation Army of Joplin
Regina Shank
River Street Food Pantry
Chris Cotton
Joplin Parks and Recreation Department