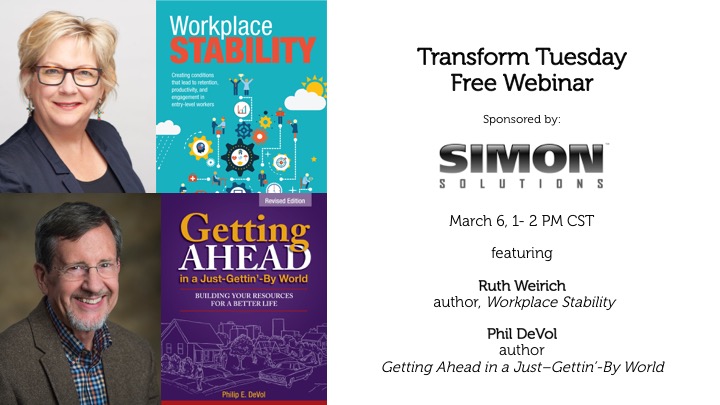 Registration Now Open! Click Here!
For several years, Stephen MacDonald was a part of fighting poverty in his community of Toledo, Ohio when a new issue came to light. "I was informed of issues faced by businesses that provide services to individuals with developmental disabilities (DD). These employers hire Direct Support Professionals to work with individuals with DD so they can lead increasingly independent, productive and integrated lives. However, in these lower-wage, entry-level positions, the turnover rate was high---nearly 51%. They were hemorrhaging staff," says MacDonald.
It was found that the top three reasons for high turnover were lack of transportation, lack of child care and disagreements with supervisors. While investigating possible solutions, MacDonald learned about ERN-USA Employer Resource Networks (ERN). To "stop the bleeding" of employees leaving and to build a better employment future for people, MacDonald brought employers together and the first ERN in Ohio was born. "It is an employer-based consortium formed to provide job retention services, work support, and training for employees," says MacDonald, Bridges Out of Poverty Coordinator and President of Emerge Solutions. As a part of the network, employers bought "shares" depending on the size of their company, and together they hired a success coach. This coach works for the employers and is hired with their input. The job of the success coach is to keep ERN employees on the job.
Employer administrators, supervisors and HR personnel received Bridges Out of Poverty training. Under-resourced employees became "investigators" in Getting Ahead in the Workplace classes. With a new common language and understanding between economic classes, all the employees got to work solving problems that affected the businesses. Six of the original eight employers are continuing in the ERN in 2018. "ERN employers report that 69 fewer staff needed to be hired in 2017 relative to 2016. Based on their reported turnover costs, these six companies saved a combined total of $288,000," says MacDonald.
Workplace stability is key to preventing and alleviating poverty and key to success in business. Enhancing stability is a win-win for all.
"Employers do a lot to stabilize us," says Ruth Weirich, author of Workplace Stability and Engagement Specialist with Aha! Process "Employers offer us vacation, 401(k), paid time off, holidays, maternity leave, and all of those things stabilize us. Not everybody gets those benefits, though, and so we're looking at ways to talk with employers about stability that will stabilize our employees and improve retention and profits."
Are you partnering with employers in your community to help employees gain stability and businesses succeed?
This is the focus of the next Simon Solutions Transform Tuesday webinar. Low-wage workers can experience personal instability that leads to absenteeism, health problems and violations of work expectations, all of which decrease morale, attention to work, job performance and employee retention.  Weirich and Phil DeVol, author of Getting Ahead in a Just-Getting By World, will explore the range of factors that create instability for employees that impact business success. They will also discuss effective techniques and tactics for increasing stability in the workplace and explore how employers and the community can partner together for success and sustainability.
Workplace Stability: Improving Retention & Productivity for Greater Profitability
March 6, 1 PM - 2 PM CST
with Phil DeVol & Ruth Weirich, Aha!Process
Registration Now Open! Click Here!
Can't make the live webinar? We are recording it! Register and you will receive a link to recording and handouts the next day.